Now Showing
Cinderella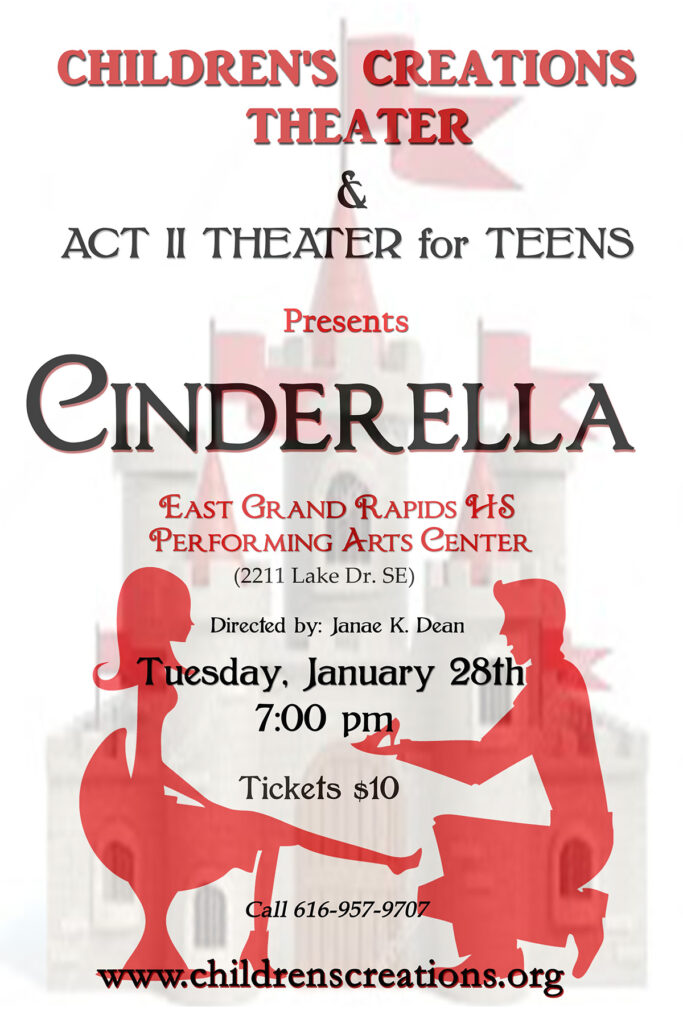 Once upon a time, there was a beautiful girl called Cinderella. Cinderella lived with her mean stepmother and stepsisters who made her do all the work.
One day the Herald announced that the Prince was giving a Ball in order to find a bride.
Cinderella wasn't invited and was sitting sadly by the fire when…
Suddenly! A fairy Godmother appeared and made Cinderella a beautiful dress and a lovely carriage to take her to the ball.
Cinderella danced all night with the Prince.
Then at 12 O' clock Cinderella left the ball. She lost her slipper on the stairs.
The Prince looked everywhere for her. Eventually, he found her and the slipper fit. They got married and lived happily ever after.
Music Man
Master showman Harold Hill is in town, and he's got "seventy-six trombones" in tow. Can upright, uptight Marian, the town librarian, resist his powerful allure? The story follows fast-talking traveling salesman Harold Hill as he cons the people of River City, Iowa into buying instruments and uniforms for a boys' band he vows to organize. The catch? He doesn't know a trombone from a treble clef. His plans to skip town with the cash are foiled when he falls for Marian, whose belief in Harold's power just might help him succeed in the end in spite of himself.
Upcoming Auditions
Seussical
The Cat in the Hat tells the story of Horton, an elephant who discovers a speck of dust that contains the Whos, including Jojo, a Who child sent off to military school for thinking too many "thinks." Horton faces a double challenge: not only must he protect the Whos from a world of naysayers and dangers, but he must guard an abandoned egg, left in his care by the irresponsible Mayzie La Bird. Although Horton faces ridicule, danger, kidnapping, and a trial, the intrepid Gertrude McFuzz never loses faith in him. Ultimately, the powers of friendship, loyalty, family, and community are challenged and emerge triumphantly.
Past Productions
Heidi
Pilgrim's Progress
The Wizard of Oz
Trail of Blood
Daddy I'm Hungry
Pocahontas, America's Princess
The Magic of Mrs. Piggle Wiggle
Aesop's Funny Fables
The Best Christmas Pageant Ever
It's a Wonderful Life
Two Nights Before Christmas
The Sound of Music
Charlotte's Web
Snow White and the Seven Dwarves
Cinderella
Little House on the Prairie, The Spelling Bee
You Can't Take It With You
A Stitch In Time
The Tale of the Princess and the Frog
Sleepy Beauty
Oliver Twist
Love Must Win
The Princess and the Pea
Stuart Little
Dr. Dolittle
Cool in the Furnace
A Christmas Carol
The Stranger of Christmas
Peter Pan
Johnny Appleseed
Robin Hood
Pinocchio
The Lion, the Witch and the Wardrobe
Driving Miss Daisy
The Adventures of Tom Sawyer
The Prince and the Pauper
The Hobbit
Stand Up America
The Hiding Place
Annie
The Music Man
You Can't Take It With You