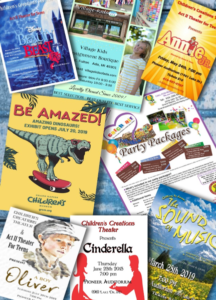 We create a beautiful full-color playbill (as shown below) for our audience to enjoy. Your Ads help to support our scholarship program which offers free or reduced tuition to any family who might need financial assistance.

Our program helps to build confidence in children by giving them an amazing experience on a professional stage with beautiful costumes, props, sets, and music. We teach, leadership, responsibility, teamwork, and respect. Our main goal is for each student to have the most fun ever! By placing an ad in the program, you will receive the benefit of hundreds of people seeing your business and knowing you're helping a child grow.
Please call if you have any questions at 616-957-9707.